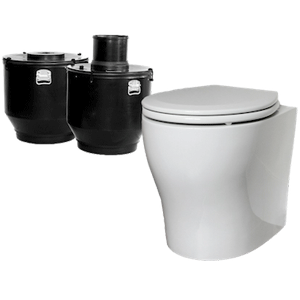 The Classic 750 is approved in most states in Australia. The relatively large capacity of the chambers combined with the low underfloor clearance requirement (only 680mm!) has made the Classic 750 the best-selling domestic composting toilet in Australia.
This composting toilet model is suitable for a couple with two small children looking to install a composting toilet into their home or as a toilet for up to 6 people as a weekender/vacation home.
You can order as many chambers as required.
CLASSIC 750 PACKAGE INCLUDES:
2 x composting chambers (60 cm H x 60 cm W). More can be ordered if required
Waste connecting chute (up to 70 cm in length as standard but additional lengths can be supplied).
Dual ventilation system including a 2 x 2 watt 12 volt fan and transformer.
Easy to follow DIY installation and maintenance manual.