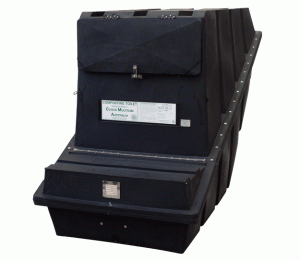 For 13 – 28 people
Our CM20 is a popular composting commercial bathroom facility that is used in a range of different environments. Built with the Australian climate in mind, this system is used for large family homes, public facilities and remote or rural applications (national parks, sporting grounds, or areas where water and plumbing is not an option).
The CM20 is ideal for larger homes with more than one toilet and small to medium sized public facilities, especially where 2 pedestals and a urinal are required.
What to look for in a composting toilet system
When looking at the option of a composting toilet (particularly for remote areas or high traffic) you need to ensure that the system is:
reliable
easy to maintain
doesn't smell
easy to use
All Clivus Multrum composting toilet systems are easy to maintain and have a wide range of benefits to the environment and the location they're installed. Talk to us today about this commercial composting toilet system.
The CM20 is certified to Australian & New Zealand Standard 1546 and is approved in QLD, NSW, VIC, ACT, NT, SA, WA and TAS. (The products are approved only if installed as per the installation manual)
Capacity
13 – 28 people full time
Daily: 55 visits (average)
Annual: 20,000 visits (approx)
Dimensions
Height: 1630mm
Length: 2390mm
Width: 1200mm
Other
Minimum clearance underfloor: 1680mm
Maximum buried in ground at front: 270mm
Minimum clearance underfloor if buried: 1410
Maximum fixture: 2 pedestals, 1 urinal
Fully assembled composting tank
1 x pedestal chute 550mm length
Flexible flashing to seal chute to chamber
Heavy duty 12 volt fan and 240V transformer
Vent pipe flashing, fan housing and vent rain cover. (100mm)
Maintenance tool
Starter bacteria
Sealant and screws
Installation Manual
Operation & Maintenance Manual