RHEEM HEAT PUMP
Rheem Heat Pumps deliver hot water by efficiently utilising a free and abundant source of energy. The heat that is in the air around us.
Refrigerant vapour compression technology enables the heat pump to intensify this heat, which is used to produce hot water. Rheem Heat Pumps are more efficient during warmer months, and will operate for less hours during the day than in colder months of the year.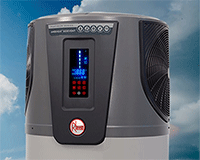 Rheem Ambiheat HDc-270
Top Down Heating – delivers heated water into the top of the tank for faster hot water delivery
No Solar Panels – No structural load on your roof and looks better too
Energy Efficient – Can cut energy use and greenhouse gas emissions by up to 68%
Unique, Back-Up Element – Provides hot water regardless of the weather
5 Year Warranty – Subject to Rheem's warranty conditions
HDc-270 Brochure
  Owners Guide and Installation Instructions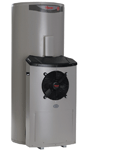 MPi-325 & 410
Multi-pass heating – Heats the water 'isothermally' by
passing the water through the heat exchanger multiple times
Constant recovery – Minimises energy use by heating
at a 'constant', optimised rate
Energy efficient – Cuts energy use and greenhouse gas
emissions by up to 65%1,2
No Solar Panels – No structural load on your roof
and looks better too
  MPi Spec Sheet
  Owners Guide and Installation Instructions
1 Energy and greenhouse gas emissions reduction of up to 65% based on Australian Government Approved TRNSYS simulation modelling and apply when replacing an electric water heater with a Rheem Heat Pump water heater in zone 3.
2 The impact on an electricity account will depend on the tariff arrangement of the water heater being replaced and where you live. The HDi-310 Rheem Heat Pump water heater is recommended for connection to either 24 hour continuous tariff or extended off peak (min 16 hours/day). Before purchase consult your energy provider for more information on cost comparisons.
* Warranty Conditions. 5 years cylinder warranty, 3 years labour on cylinder, 2 years on sealed system including labour, 1 year on all other parts and labour. Applies to domestic installations only. Conditions apply. See the Rheem warranty set out in the Owner's Guide & Installation Instructions or view at www.rheem.com.au/warranty. Amended warranty may apply where a government rebate has been received for the heat pump water heater. Phone 131 031 for details.
Sanden Heat Pump
A Sanden Hot Water Heat Pump uses industry-leading technology found in refrigeration and air conditioning units, where energy is drawn in from the ambient atmosphere and transferred into heat. An Ozone friendly refrigerant R744 (CO2) absorbs the heat, which then flows into a compressor where it's converted into a high-temperature gas. Then, it passes through a condenser within the water tank and the water is heated up. No backup elements are required.
The result is a system that requires radically less electricity to heat water when compared to conventional hot water systems. In fact, the initiative will save up to 80 per cent on a hot water bill, year after year. And no, it doesn't involve cold showers!
Less energy, less impact on the environment, more savings.
Sanden's Eco Plus Hot Water Heat Pump technology uses 1kW of energy to generate 4.5kW of heat; this is 80 per cent less energy compared to traditional hot water systems. When considering that electricity price hikes will continue to hit households year after year, it becomes the best, financially sustainable option on the market.
The Sanden Eco Heatpump is available with a variety of sized stainless steel tanks, or mild steel.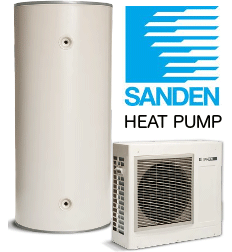 Environmentally Friendly Hot Water
As an environmentally advanced product, it is also affordable. The system is ranked alongside solar energy in terms of environmental friendliness and as such it is eligible for rebates and other government incentives. It offers the highest level of Small scale Technology Certificates (STCs) of any hot water heat pump system, saving you hundreds at the outset.