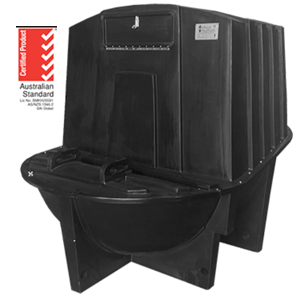 For 28 – 55 people
Ideal for public restrooms, public facilities, roadside stops, national parks or anywhere where a large capacity composting toilet is needed, the CM40 is a composting waterless toilet that will suit 27-28 people full time or up to 55 people part time.
Clivus Multrum's unique approach to creating environmentally friendly bathroom systems stems from the beginnings of our family business over 35 years ago. Manufacturing high quality, durable waterless composting toilet systems for all types of uses and places across Australia.
The CM40 is ideal for medium to high usage public facilities, especially in locations where water is in short supply e.g. roadside stops and national parks.
The CM40 is certified to Australian & New Zealand Standard 1546 and is approved in QLD, NSW, VIC, ACT, NT, SA, WA and TAS. (The products are approved only if installed as per the installation manual)
Capacity
27 – 28 people full time
Daily: 110 visits (average)
Annual: 40,000 visits (approx)
Dimensions
Height: 1720mm
Length: 2480mm
Width: 1890mm
Other
Minimum clearance underfloor: 1850mm
Maximum buried in ground at front: 250mm
Minimum clearance underfloor if buried: 1600
Maximum fixture: 4 pedestals, 2 urinals
Fully assembled composting tank
1 x pedestal chute 550mm length
Flexible flashing to seal chute to chamber
Heavy duty 12 volt fan and 240V transformer
Vent pipe flashing, fan housing and vent rain cover. (100mm)
Maintenance tool
Starter bacteria
Sealant and screws
Installation Manual
Operation & Maintenance Manual