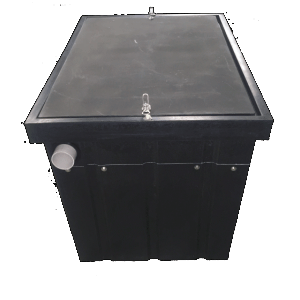 DIMENSIONS
Height: 700mm Length: 930mm Width: 650mm
The treatment principles our greywater prefilter system based on are well known and extensively used in the USA and other overseas countries and increasingly within Australia.
Key Features:
Unlike other prefilter system which usually deploy gravel filter, our system uses light weight plastic filter medium for easy maintenance and will allow the trapping of particles in an aerobic environment.
Prevents the waste water from turning anaerobic and prepares the water for disposal by any of the following methods:

Absorption trenches
Evapo-transpiration beds
Absorption wells
Subsurface irrigation
Surface irrigation (drip trickle or flood)
Sand/soil filters followed by surface irrigation.

Can be buried 1/3 into ground.
The filtering greatly reduces the risk of clogging leach lines.
Controls surge flows.
Utilizes aerobic processes and is compatible with treatment by soil organisms.
The unit drains, either by gravity or switched pump. The grey water is not stored and so offensive odours are not produced by anaerobic bacteria growth.
The system is vented to ensure optimum oxygen levels within the unit.
Kitchen water can be directed into the prefilter system after first running it through a grease trap.
Solid particles such as hair, lint, soap, and other sediments are filtered by two long nylon socks. These socks run the full length of the filter box. They are evenly supported by a moulded plastic grate. As liquid passes into the nylon filter it is designed to drain evenly down through the aerobic filter medium. When the filter socks become full, they can be emptied into a compost bin and then re-fitted. Alternatively new socks can be fitted to the system. The light weight plastic filter medium is used to further filter finer particles and other sediment from the greywater. This aerobic filter medium has a high surface area to which fine particles, oils, etc. adhere only to be processed by the aerobic bacteria growing on these surfaces.
Package includes:
Fully assembled tank
Two nylon filter socks
Light weight plastic filter medium
100mm inlet and 50mm outlet uPVC piping
A sachet of aerobic bacteria
Installation Manual
Operation & Maintenance Manual