The first of its kind in Australia
The Nature's Head self-contained composting toilet is taking the market by storm.
These systems have a 5 year warranty, are marine grade quality, have a smaller footprint than the rest and are good for up to 80 uses between cycles.
• 5 year warranty
• Separation of liquid and solid wastes results in odour free operation and ease of disposal
• Full-size moulded seat ensures safety, comfort and easy cleansing
• Vent hose, and fan may be mounted on either side of unit allowing ease of use and optimal space utilisation. The spider handle only can also be located on either side
• Fully supported liquid tank provides extension beyond mounting pedestal
• Unit arrives ready for installation requiring only external vent
• Completely self-contained and portable
• Gross Weight empty 15 Kgs
The development of Nature's Head refined the concept of the composting toilet, producing a user-friendly, more economical and aesthetically improved toilet. The toilet's unique moulded design incorporates stainless steel  components and hardware into a high-quality, durable product.
Nature's Head requires no pump-outs or holding tank. There is no clogging or odour associated with its use.
The waterless, urine-separating design contributes to the extraordinary holding capacity of the head. The composting section will hold approximately 60-80 uses. For part time usage by 2 to 3 people, this likely represents several months without emptying. Full time users can expect 3 to 5 weeks capacity. The urine  bottle, containing about 10 litres, will require more frequent emptying  (approximately every 2 to 5 days).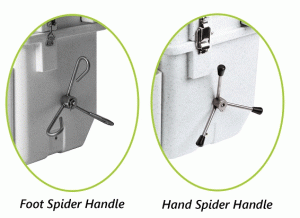 The Natures Head now comes with three different handle options to turn the agitator. There is no need to bend low to turn the agitator, you can use your foot whilst standing, with the foot spider. There is also the option to turn the agitator whilst still seated on the toilet, with the shifter handle. However the hand spider handle option is the only one that has the ability to be installed on either side, the other two will be located only on the side of the flap handle.
Capacity
Suitable for up to 80 uses before emptying the solids bin is required
Electrical rating
Fan motor 20W
Floorspace Required
330mm x 475mm

Dimensions
Height: 546mm
Width: 450mm
Depth: 475mm
Materials
Outer casing of ABS plastic
Metal components of stainless steel
Toilet – white granite
Inside vent flange
Agitator handle
Allen key to install handle
2 mounting brackets with knobs and screws
2 meters of single pin cable for 12 volt fan hookup
Fuse and fuse holder for the 12 volt application
Liquids cap
1.8 meters of 1 1⁄2" hose for vent
1 x Coir-Peat brick
1 X Spray bottle & compost stimulant