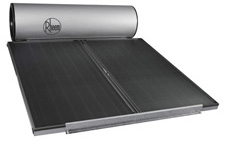 Mild Steel Storage Tank
Choice of Sizes
Passive Solar Design
Gas or Electric Boost
Frost Proof Model Available
5 Year Warranty
Rheem Back-up Service
This system is a great cost effective solution
Passive Solar Design. This model of solar hot water system is similar to the original solar water heater developed in Australia more than 60 years ago.
The design is very simple
Water in the collectors is heated by the sun. This heated water rises naturally to the storage tank. No sensors, pumps or controllers are required. Actually there are no moving parts! Its that simple.
These systems come standard with electric boost but can easily have a gas booster attached if required. The frost proof model has an inbuilt heat exchanger and has a frost proof liquid in the collectors meaning it can withstand temperatures as low as minus 16 degrees.
Models
52S160 – 1 x NPT Panel, 160 litre tank, not frost protected
52S300 – 2 x NPT Panel, 300 litre tank, not frost protected
52S160
5 Years Warranty
We are the local "Rheem Service Agent", so, help is only a phone call away.