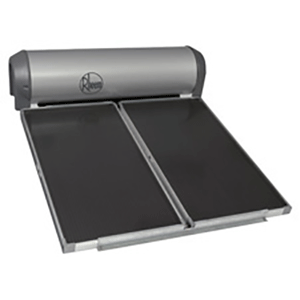 Stainless Steel Storage Tank
Choice of Colours and Sizes
Passive Solar Design
Gas or Electric Boost
Frost Proof Model Available
7 Year Warranty
Rheem Back-up Service
Stainless Steel is by far, the superior material for storing hot water for passive solar, as it can withstand higher temperatures than other materials. Maintenance costs are reduced because there is no sacrificial anode that requires replacing. Water quality is also better because there is no anode dissolving into your water.
Colourbond Colours are available for the tough, exterior tank casing meaning it can be possible to harmonise the tank with the roof colour. Available tank colours for 300 litre models are Silver Grey, Woodland Grey, Headland and Night Sky. The 180 litre tanks are available in Silver Grey only.
Passive Solar Design. This model of solar hot water system is the same as the original solar water heater developed in Australia more than 60 years ago.
The design is very simple.Water in the collectors is heated by the sun. This heated water rises naturally to the storage tank. No sensors, pumps or controllers are required. Actually there are no moving parts! Its that simple.
These systems come standard with electric boost but can easily have a gas booster attached if required. The frost proof model has an inbuilt heat exchanger and has a frost proof liquid in the collectors meaning it can withstand temperatures as low as minus 16 degrees.
7 Years Warranty gives you peace of mind.
We are the local "Rheem Service Agent", so, help is just a phone call away.
Models available
52L180/1NPT – 1 to 2 people for frost free areas
52L300/2NPT – Up to 6 people for frost free areas
52H180/1NPT – 1 to 2 people, suitable for frost areas
52H300/2NPT – Up to 5 people, suitable for frost areas.
All models are compatible with gas boosting to suit higher hot water demand or off-grid installation.