Stainless Steel is 9000 times more durable than carbon steel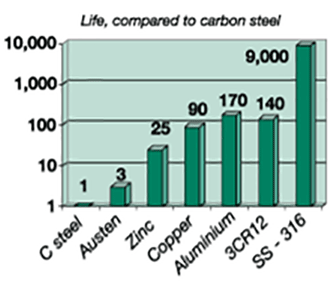 The graph on the left shows the results of a 20 year corrosion study from a very corrosive environment near a beach in South Africa: an even more severe environment than the most aggressive in Australia, such as Newcastle Beach.
Stainless steel grade 316 gave about 9,000 times the life of carbon steel. Grade 304 would be similar, although not quite as much. And this in an environment where each millimetre of carbon steel would corrode away completely in about four years. The graph on the left and the above text can be found here.
Water Heater Construction
When Carbon Steel is used in water heater construction, a layer of vitreous enamel is used to protect the internal surface of the tank. However, due to expansion and contraction, vitreous enamel is not a guaranteed form of protection so a sacrificial anode is also installed in the tank.
The sacrificial anode is composed of a combination of weaker metals. These metals are continually dissolving into your water. The aim of the sacrificial anode is that aggressive water conditions will attack the anode instead of the tank. Anodes most be replaced regularly, increasing maintenance costs.
Unlike carbon (mild steel) tanks, stainless steel tanks do not require a sacrificial anode. Maintenance costs are therefore reduced, and water quality is increased.