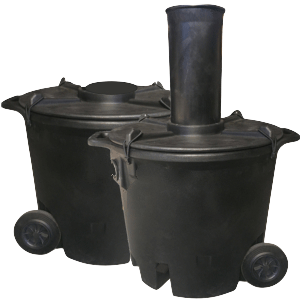 This model has larger capacity chambers & only requires 750mm underfloor clearance.
The CM High Profile comes with some great features.
Two wheels making it much easier to change the full chambers and the optional compost mixer can accelerate the composting process.
The relatively large capacity of the chambers combined with the low underfloor clearance requirement (only 750mm!) makes this system an ideal choice for weekenders and cabins.
This composting toilet model is suitable for a couple with two small children looking to install a composting toilet into their home or as a toilet for up to 6 people as a weekender/vacation home.
You can order as many chambers as required.
CM High Profile PACKAGE INCLUDES:
2 x composting chambers (700 mm H x 880 mm W). More can be ordered if required
Premium porcelain palisade pedestal and soft close seat
Waste connecting chute (up to 550mm in length as standard but additional lengths can be supplied).
Ventilation system including 1 x 12 volt fan and transformer.
2 x Nature Quick Microbes
125ml Nature Flush Enzymes & spray bottle
Bulking agent
"Who Gives a Crap" Toilet Roll
Easy to follow DIY installation and maintenance manual.