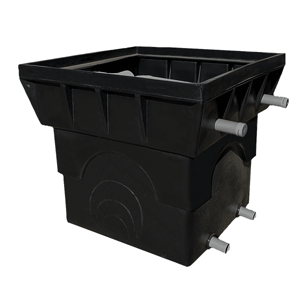 DIMENSIONS
Height: 935mm Length: 820mm Width: 820mm
Nature Clear GWS10 provides a simple and cost effective means of treating grey water. Not only is the equipment low cost, but also, if your site is suitable, the only significant excavation work required to install the system will be the trenching.
Nature Clear GWS10 is, as of 2011, only approved in Queensland and only as a primary treatment system. In addition to most Queensland councils, some councils in NSW, NT and Tasmania have also allowed the installation of Nature Clear.
The filtration tank, which is less than 1 cubic meter in size, consists of a pine bark coarse filter on top of different grades of sand and gravel. The filter cloth is provided but due to freight costs the sand and gravel should be sourced locally. Sample bags of these are provided with the system to assist with your selection of the correct grade materials.
The pine bark traps large particles not caught in the grease trap plus lint from the washing machine. The sand filter catches still finer materials, polishes the water and reduces the organic content of the water. The pine bark is separated from the sand by filter cloth. The filtered material and bark will compost over time and should be removed every twelve months and replaced with fresh bark, available from your local garden nursery. If your distribution area is down hill from the filtration tank your engineer should be able to design a distribution system without the use of a pump. If this is not the case you will need a pump and pump well.
The treated water must be distributed into trenches as specified by your engineer. Make sure his calculations of size do not include an allowance for toilet water, which would make them unnecessarily large and expensive.
NOTE: In order for the filtration tank to work most effectively food scraps and grease should be removed from the kitchen waste water via a grease trap.
You will require: 0.07 cubic metres of 12-25mm gravel, 0.2 cubic metres of fine washed sand 0.4 – 1.2mm and 0.16 cubic metres of coarse washed sand 1.5 – 3mm.
Package includes:
Fabric
Pipes and fittings
Samples of requires filter medium
Installation Manual
Operation & Maintenance Manual