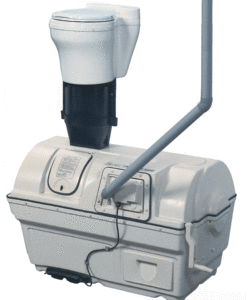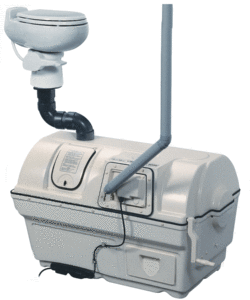 Overview
The Centrex 2000 composting toilet is designed to manage the waste from four person full-time residential use to mid to heavy holiday use.
The Centrex 2000 can be supplied as a microflush model or a waterless model. In the waterless model the waste falls under gravity into the drum of the composter. In the case of the microflush model the waste is transferred by the microflush. The flush of 0.5 litres of water from the ceramic pedestal carries the waste sideways and then down into the drum of the processor. From this point on the two models are identical. The microflush pedestal can be up to 4 metres away from the composter in a horizontal plane and a couple of floors up vertically.
The Centrex is available as a 240 volt unit or the 12 volt (1.9 watt fan) NE version. The 240 volt version comes with a heater as standard.
In a residential property, housing four adults, the finishing drawer will need to be cleared every 3-4 months. In a weekender or holiday home the Centrex 2000 can cope with the waste of up to ten adults and may, depending on usage, only need to be emptied annually.
Due to the evaporative properties of the 370 watt thermostatically controlled heater, this system requires minimal drainage, if any at all. It is also equipped with a 35 watt turbo fan and vent stack to keep all odours at bay.
The Centrex 2000 composting toilet has received Australian Standards certification and is approved in most states. It can be used with one or more SeaLand Microflush Pedestal or Waterless Pedestal, purchased separately.
Note: If purchasing a Centrex 2000 with a waterless pedestal, a waterless kit would be required for the installation.
Capacity Listed capacities refer to the amount of people, on average, using the unit per day. Do not pick a unit that is below your capacity.
Full time users (Residential/Continuous)
4 People
Part time users (Seasonal/Vacation)
6 People
Weights & Dimensions (L by W by H)
Unit
1137mm x 683mm x 686mm
Shipping Weight
54kg
Shipping Carton Dimensions
1140mm x 750mm x 870mm
Electrical Rating
Maximum Amps (With Heater On)
3.6
Fan Watts (Required or Optional Hookup)
35 (Required)
Heater Watts (When Thermostat switches it on)
370
Average Power Use in Watts (Heater on 1/2 time)
200
Vent & Drains
Vent Pipe
4″ PVC Thinwall (supplied)
Drains (Required or Optional Hookup)
1″ O/D Drain (Required)
Certifications / Approvals
SAI Global Certification / AS/NZS 1546.2:2008 On-site domestic wastewater treatment units – Waterless composting toilets. This model is approved in QLD, NSW, VIC, SA, NT, ACT, WA & TAS. (The products are approved only if installed as per the installation manual)