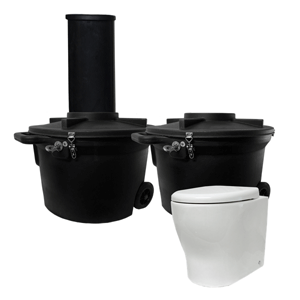 This Low Profile system is designed for tiny homes, cabins, permanent caravans and weekenders with a low underfloor clearance requirement (only 450mm!).
This model can be purchased in a range of configurations, with or without a pedestal. Certain configurations are certified to Australian & New Zealand Standard 1546.2 gaining approval in most Australian states. *Approval in SA requires 4 chambers. Therefore, if approval becomes an issue two additional chambers can be purchased at a later date.
Please see the range of configurations on the order page.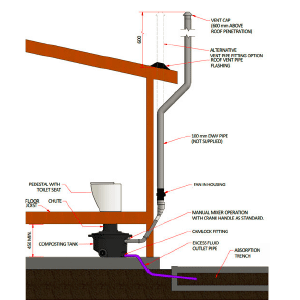 CM Low Profile PACKAGE INCLUDES:
2 x composting chambers with crank handle compost mixers
Premium porcelain palisade pedestal and soft close seat
Waste connecting chute (up to 550 mm in length as standard but additional lengths can be supplied).
Ventilation system including a 12 volt 5 watt fan in housing and transformer*
2 x Nature Quick Microbes
125ml Nature Flush Enzymes & spray bottle
Bulking agent
"Who Gives a Crap" Toilet Roll
Easy to follow DIY Installation and Maintenance manual.